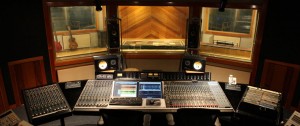 The Room
Control room A features floating floors, sand filled triple isolation walls, 2″ glass panel windows, a custom designed compression expansion ceiling, and a separate isolated machine room. This provides an extremely quiet listening environment with enough room for everyone to get comfortable.
Control Room A, provides elevated seating at the producers desk and a separate talk-back mic to allow producers and other band members to communicate with ease during tracking. Complete studio visuals via 2″ glass panels further enhances communication with all artists at all times. Installed in this room is a customized GMS Series 5200 analog console, modified with Neve design preamps, and Penny & Giles faders.
(A wide variety of mix down formats and conversions are also available, which are compatable with, Nuendo, Pro Tools, Cubase, Triple-Dat, Pulsar, Reason, and more.)
Features and Specs

Ultra quiet isolation
Producers desk with elevated seating for full studio visuals to all Iso rooms and tracking areas
Custom designed console that allows working in DAWs in the proper monitoring sweet spot
Compression/Expansion ceiling
Dedicated isolated machine room with full visuals of all tape machines and converters
Isolated ventilation systems (Studio A, Control Room A, and Machine room do not share air ducts)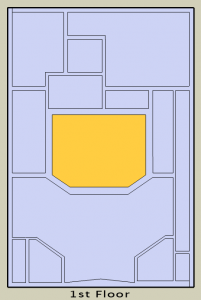 Machine Room
Console
GMS Series 5200 Split Format 52 Input 24 Bus Analog console modified
with Neve preamps & Penny & Gilles faders.
Monitoring
JBL 4412
Paradigm – Reference Studio 40s
Yamaha – NS-10MS
ANTHEM – MCA-30 (5.1)
DAW'S
CUBASE
PROTOOLS
WAVELAB
FL STUDIO
Conversion
Apogee AD-16 A/D Converter (x2)
RME 8-I/O A/D – D/A Converter
Creamware A-16 I/O 16ch A/D – D/A Converter
Tape Recorders
SONY – PCM-3324 24 track digital DASH recorder
SONY – DTC- 700 RDAT
SONY – K909 ES Cassette Deck
Outboard Gear
DYNAMICS
Aphex Compellor
ART 117 EQs (4ch)
DBX 166 comp/Limiter (8ch)
DBX 266A Comp/Limiter (2ch)
DBX 263X Classic De-esser (1ch)
DOD 430 EQ (2ch)
RANE DC-24 Comp/Limiter (2ch)
SAMSON E62 EQ (2ch)
VALLEY Kepex II gates (18ch)
VALLEY Gain Brain II compressors (2ch)
Effects
ADA Pitchtraq Harmonizer
DMD 2500 Digital Delay
LEXICON LXP-1
Roland – SE-50
Yamaha – REV-7
Mic Pre's
Custom GMS (NEVE1272) (20ch)
BELLARI RP-220(GKLabs-Modified)(2ch)
TC Electronics – Gold Channel (2ch)
Virtual Effects/Plugins
WAVES Diamond Bundle V8
WAVES SSL Bundle V8
STEINBERG VST's
Universal Audio UAD-1
UAD -Tektronix – LA-2A
UAD -UREI 1176
UAD -Real Verb Pro
UAD -Pultec EQ-1
Melodyne Pitch Correction
Virtual Instruments
REASON 4
Spectrasonics -Trilogy
Spectrasonics -Atmosphere
Spectrasonics – Stylus
Steinberg -Halion 4
Hardware Instruments
Roland JUNO-106 Analog Polyphonic Synthesizer
Roland SC-50 Sound Canvas
Novation – UltraNovas
Native Instruments – Maschine
Microphones
Rode NTK
AKG 414 (4)
AKG 451EB (4)
AKG C-60 w/CK1 Capsule
AKG D-112 (2)
AKG C-1000s (2)
AKG D-24
AMPEX 244 (2)
Audio-Technica PRO-25
Audio-Technica 4050/CM5
Beyer Dynamic M-500
EV RE-20
Peavey PVM45
Sennheiser E-604 (4)
Sennheiser 441U (Black)
Sennheiser 441U (Silver)
Shure SM-57 (7)
Shure SM-58
Shure SM-78 (2)
Telex T45